Advantages of Online Classes and How to make them more Effective for your Children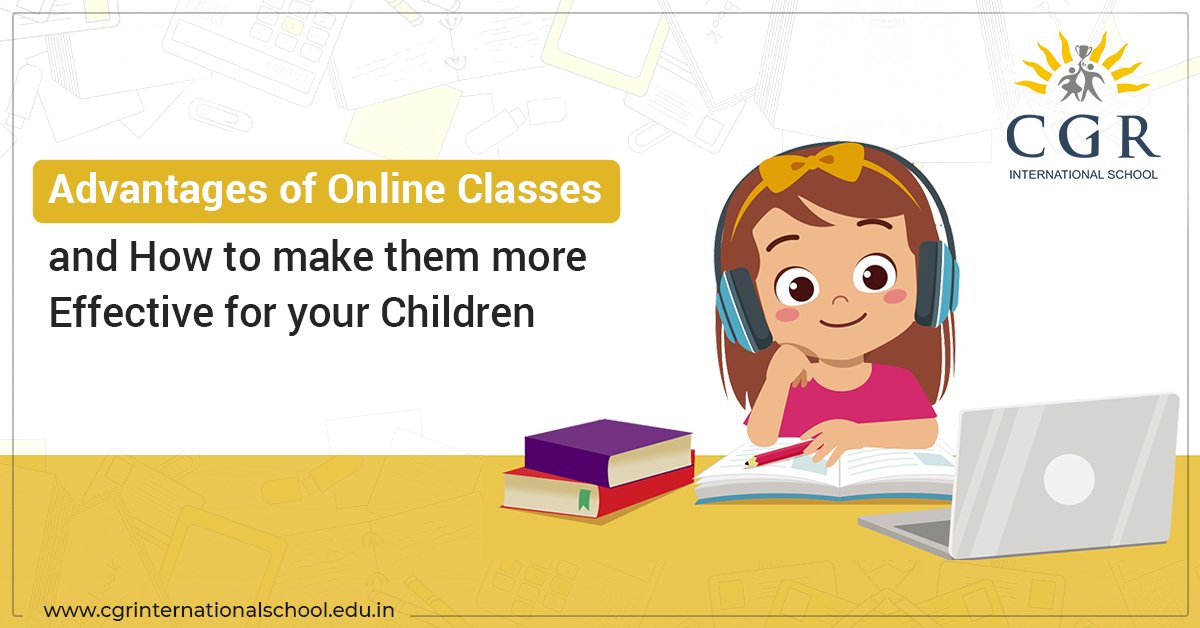 Online classes are now the 'new normal' and is now a popular phrase. Gradually, it will turn to be 'used to' and then will log-in in our record as in a chronological book. We long to go back to our old happy comfy classroom days. In a situation like today where technology is constantly evolving, it is hard to imagine staying without it. Efforts are in full swing to figure out alternatives to outdoor activities (here in the context of education) for children. We are protective of our children and always want the best things for them.
Change is good; Change is inevitable, and change is also challenging. Over time we have to let go of some things in life while we have to encounter new experiences in life. We know that some things that are trendy today will become our past tomorrow. We cling to our old ways and always there is a kind of anxiety to try something new. Eventually, time will take its phase and will teach us to be one with it.
Right now, the talk in the Academic world is about Online education and online classes. This is the existing change in the education field which had to accommodate rapidly. Every learning has a positive impact on children's life. Precisely, the education is focused on future developments. Ultimately, it shapes the career of a child.
The education during the pandemic has transformed the facet of education. It was an unprepared situation to land on a digital platform. Some insights on advantages of Online Classes are:
Positive side of Online Learning
Easy Access: Online learning is easy to access as every home already has an internet facility. The learning process is limited to a few hours a day. So, the challenge is to be available for classes on time and regularly, follow all guidelines, and be prepared for classes. The digital classes are therefore focused on effective learning in a short timeframe. Online classes also schedule time to time home assignment which makes it easy for parents to keep track of activities. CGR International School keeps it simple by following an organized approach and feasible digital platform.
Skill-Based Learning: As the online classes are made effective and engaging there is more scope for skill-based learning. Teaching and learning both happen virtually. Teachers integrate innovative learning approaches in their lessons for children and provide them with plenty of reference sources to refer and self-learn. This results in in-depth knowledge and skill development in children.
Multi-tasking: "Feed birds with one scone" this saying may be applied here. Online classes require children, parents, and teachers to work hand in hand. Multitasking is the apt solution for those parents who are engaged with work from home at the same time. It is important to watch for children's active attention and help them follow discipline during classes. This also happens when parents actively pursue a similar process in their respective activities / jobs, as children see and learn from parents.
Flexibility: Classes can be attended from anywhere, provided the environment is free from all distractions. The choice of learning environment must be learner-friendly and motivating. It must help children to concentrate and stay focused. Parents must make sure that while studying the child is away from other distractions and a conducive learning environment is created for the child.
Productivity: Online classes involve technology and several multimedia tools to make classes interesting and interactive. This motivates children to learn more and develop better understanding. If the child understands the lessons well then surely the outcome will be productive.
Channelizing the right use of Digital Gadgets:
Screen time Monitoring: Online classes require digital gadgets to attend classes. Also, in this digital age children tend to spend more time with gadgets. Increased screen time can distort a child's routine life, cause eye strain and other health issues including less physical activity, self-centeredness, and introverted behavior. The best way to prevent this is to guide them to use gadgets effectively by disciplining them as to when to use and how much time can be spent and what to browse on, etc.
Constant Monitoring: While using digital devices constant monitoring is needed to encourage children's proper growth. The internet is vast and certain sites are restricted for children to visit. Make them aware of cyberbullying like threats and how to be vigilant while using the internet. Parents need to constantly monitor their children's actions to prevent them from such harmful threats which might misguide them otherwise.
Social Life: In this digital age, most children are getting addicted to digital gadgets. They are occupied with online games and other online activities on social media. They tend to interact less with others and hence social life is limited to social media. Hence, it affects one aspect of development that is Social Development which is responsible for building good relationships. The best solution for this would be to spend valuable time with them either having some recreation time with family, engaging in some tasks like gardening which involves interaction, or a hobby, encouraging them to talk with others too.
Conclusion
The facet of online classes is evolving rapidly.  Education needs to continue. It is one thing that cannot be paused for a long time. During the stages of growth and development of children, it is essential to provide them with holistic training. Right guidance is required to ensure they walk in the right path. Thus, safety and wellbeing will follow.
CGR International School delivers a wholesome education. For more information reach us at https://bit.ly/3qVhtvN