The Importance of Art and Craft in Early Childhood

The lasting advantages of Art and Craft
Children across all ages love to take part in art and crafts-related activities. Arts and crafts related events inculcate a sense of pride and achievement in children and help in giving a boost to their self-esteem. With the help of arts and crafts, children can enhance their academic skills too!
They serve as a crucial link in building necessary thinking skills, besides the motivation required for children to prosper in higher levels.
Arts and crafts are beneficial to children in many ways:
Builds fine motor skills
As a large number of arts and crafts-related activities contain moving hands and fingers, they help in building fine motor skills. Even simple actions such as coloring with pencils or holding paintbrushes help in building the muscles and enhance their control. The sooner a child learns developing fine motor skills, the easier grade school will be.
Increases agility
Arts and crafts can bolster the liveliness dexterity of a child. With practice and perfection of fine motor skills, a child's manual dexterity, quickness and artistic skills will also improve.
Enhances hand-eye coordination
Taking part in arts and crafts related activities from early age results in huge improvement in hand-eye coordination. This will help children in the post-primary years when they learn to form letters or space out words.
Improves language development
Making and speaking about art, or elucidating their own creation, enables children to pick up new words, as well as raises their language and communication abilities. It also encourages them to express their feelings without shyness.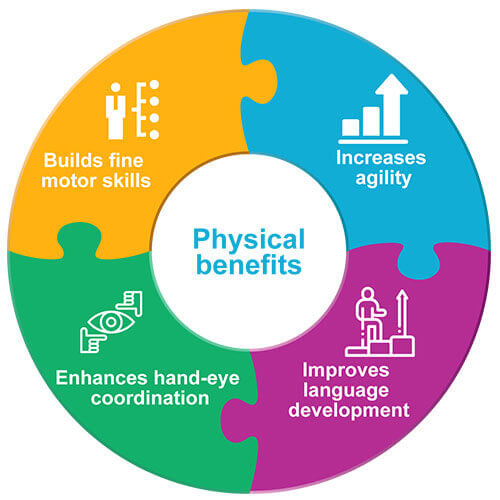 Social/emotional benefits
Inspiring self-expression
Active participation in creative pursuits like arts and crafts gives a child a chance to express her feelings in a meaningful, noticeable and positive manner. She also draws satisfaction from making something on her own.
Helps in being socialized
Staying together with other children in an art class gives children the opportunity to communicate and socialize with those sharing common interests. All the more when parents evince interest in doing activities with their children, it builds the parent-child rapport as well.
Improves innovation and creative ability
The opportunity to develop whatever a child intends to motivates innovation. Further, the ability to think and solve problems children might face while making something unearths their creativity.
Hones decision-making and critical thinking skills
Experiencing and solving artistic challenges will enable a child to learn to take effective and right decisions. This enables develop the problem solving attitude that will also enable him in other endeavors of life.
Enhances visual-learning and memory
Through arts and crafts, a child will come to know about new shapes and colors. Additionally, a child is exposed to different patterns and figures. Exposure to various activities like sculpting or jewelry enables children to memorize complex designs in the mind.
Conclusion: CGR Encouraging children to take part in arts and crafts in school will eventually give a fillip to their physical, social and cognitive development.