Tips for keeping your child safe during the summer break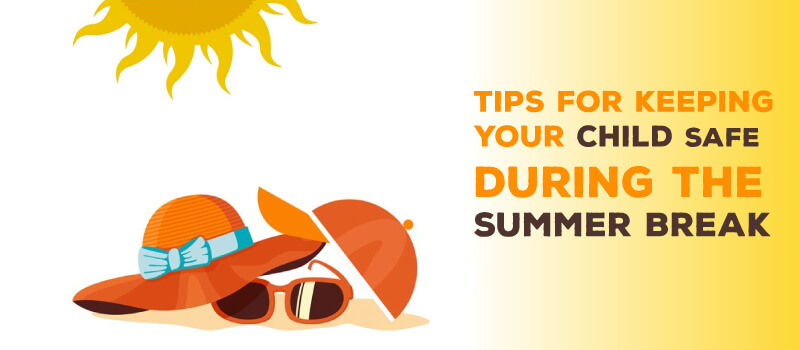 It is that time of year that your child has been anticipating for months – summer vacation!
A time when your children would love to have fun outdoors with their family and friends. With the sun peeping out and the days being very warm, it is important that your child stays safe in the sun whilst still having lots of fun outdoors.Though as parents, you want your kids to make the most of their holidays, you might be concerned about your child's safety and health. As you may already be aware, vitamin D received from the sun helps in strengthening your children's bones. However, too much exposure to the sun can be quite harmful.Having fun in the sun can pose serious health risks for kids, especially if you haven't taken the necessary precautions. It takes as little as 15 minutes for the sun's ultra violet rays to burn the unprotected part of the skin.
Here are some safety tips that will help keep your child healthy and active during this summer break:-
Sunscreen to the rescue:
For kids who six months and older, a Sun Protection Factor (SPF) of 15 or greater reduces the intensity of ultra violet rays that causes sunburns. Apply the sunscreen about 15 to 30 minutes before your child gets exposed to the sun so that it can get absorbed into the skin and decrease the likelihood of being washed away.
Reapply the sunscreen once in every two hours. In case of most children, proper application and reapplication of sunscreen are more important factors that using a lotion with a higher SPF.
Take plenty of liquids:
Summers can get hot and you might want to make sure that your child drinks plenty of water. Excess heat during summer causes dehydration which can lead to weakness. To prevent dehydration, your child should drink about half a litre of water 30 minutes before beginning any activity. It is also mandatory that your child takes fluid breaks. Along with water, your child can take lime juice or fresh fruit juices that will help instantly recharge the body's lost fluids.
Along with taking plenty of liquids like buttermilk or lemon juice, make sure that you child intakes water-rich fruits. Eating water-rich fruits such as watermelon or grapes can help your child gain nutrients to stay fit during the summer.
Wear loose and light coloured clothes:
Make your child wear loose, light coloured clothing as they absorb heat better and allow the sweat to evaporate. Light coloured clothing reflects light and dark coloured clothing absorbs it. So, when you wear dark coloured clothing, more heat is absorbed. Light colours like yellow, beige, white and other light colours will keep your child cool because they reflect most of the sun's rays back into the atmosphere.
Cotton clothing absorbs sweat from the body and wicks the moisture away from the skin. This makes it the perfect fabric for summer because it keeps your child cool and prevents infections. Also, ensure that the fabrics are full-sleeved so that your child's skin is protected from the harmful ultra violet rays of the sun.
Keep your child out of the sun:
Keep your child away from direct sunlight and mid-day sun. Engage them with indoor activities and try to keep them out of direct sunlight, particularly during peak hours from 12 to 4. Evenings, after 4:30 PM, is the best time for recreational activities, especially for kids playing outdoor games like cricket or football.
Thus, is it highly recommended that your kids go outdoors to play either in the early mornings or in the late evenings.
Wear the right gear:
All of us are at risk of developing sunstroke if we leave ourselves uncovered. Children are of no exception, particularly those with fair skin or fine hair. So, ensure that your child wears a hat so that they are protected from the sun. Hats shade the face, scalp, neck and ears and protection from the harmful ultra violet radiations.
Another important gear is the sunglasses. They protect your child's eyes from the UV radiations which can lead to cataract or other eye ailments. So, look for sunglasses that wrap around the entire eye and blocks as close to 100 percent of both UVA and UVB radiations.
Carrying an umbrella on a warm summer day can protect your child's skin from the harsh sun. In fact, they are almost as effective as a sunscreen.
Say no to junk food:
When it is hot outside, there is also more heat generated within the body, which can make your child feel irritable, tired, have trouble sleeping and make him or her lose concentration. While drinking plenty of water is crucial, your child must also have the right foods to stay fit and healthy in summer.
While everyone is certainly fond of junk and spicy food, it is better to avoid them during summers. Spices lead to heating of the body as they are found to boost the rate of metabolism and have a high thermogenic effect on your child's body.
Instead, let them take more of fresh fruits like muskmelons, kiwi, watermelons, as they have antioxidant properties and water content which helps in preventing dehydration.
While summer break is the time for action, adventure, smiles, and satisfaction, it is very important to enjoy every aspect of it safely. With a little effort and planning, it is easy for children to enjoy outdoors safely, without falling sick. As a parent, make it a priority to keep your child safe from the harmful radiations from the sun. Be sure to let your children have fun, but most importantly, be sure to keep them safe!
These are just some of our suggestions for safe and healthy summer holidays, and we hope that armed with our top tips you and your family enjoy a great summer break. Do you have any more tips in your mind? Post them in the comments section below.