Tips For Teaching Kids How To Focus On Homework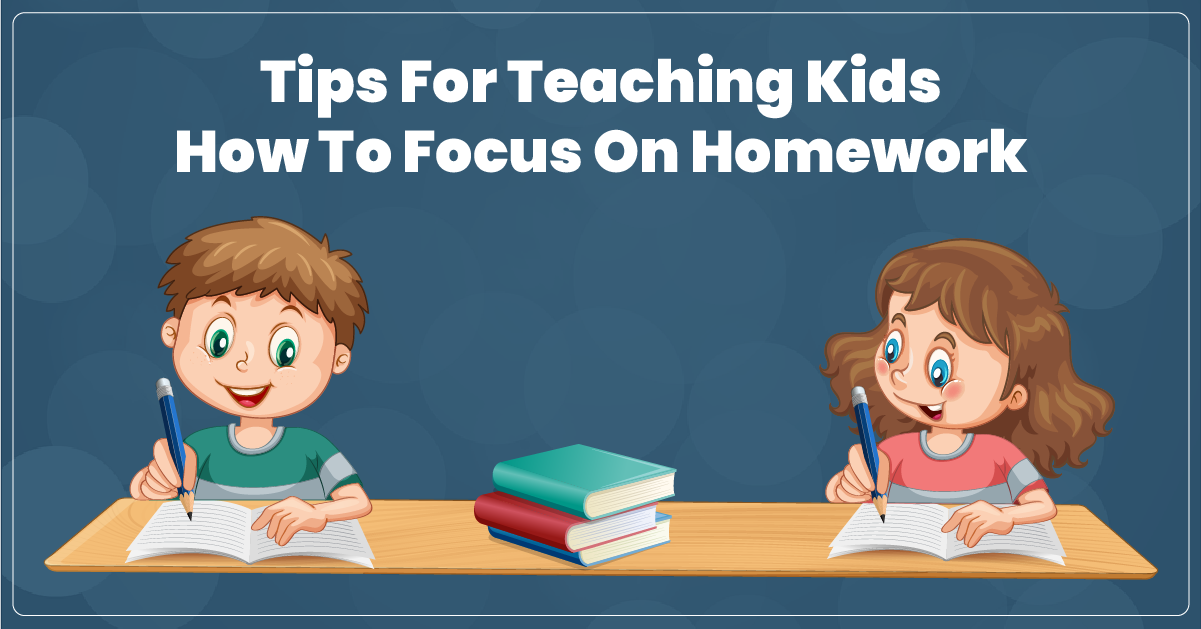 A student is required to complete homework assignments every time they receive a task. However, many students are distracted from their surroundings at home or their personal projects which makes it hard to finish their work within the timeframe or provide the highest quality work. Are you trying to figure out ways to motivate your child to be focused on their work?
The focus on homework can help students to comprehend the concepts that are being tested or taught during the assignments. It also provides an opportunity for the students to learn to concentrate on academics in the same way as they will be required to do to be expected in the future when he or she sits for examinations. Students who are focused on their homework will produce more insightful work, which helps him achieve higher marks.
What can you do to guide your child to concentrate on their homework?
Make a routine for homework
The routine involves determining the best time during the day that the child can do homework. It could be right after school, prior to supper and in the early morning, or even during the certain hours during the weekend. It helps prepare your body as well as mind for sitting through the exercise, which ensures complete concentration. The program should be able to take into account other things that are competing for attention from family, friends and personal tasks. The ideal time for the child to finish the project is when the other activities aren't calling for attention.
Make sure you have all the reference documents required
Find and collect every item required by the child for the project. These include books, scientific or mathematical equipment, calculators and other materials for reference such as journals or academic papers. The collection of these materials eliminates the need to get up from your chair to search for an item on the shelf or pause the work due to there are no reference materials accessible. Once the child sits at the desk, he is able to work for a long time without interruption.
Divide the lengthy assignments into manageable chunks
A long and exhausting course of study is likely to cause continuous distracting yourself. Reduce distractions by dividing work into manageable chunks. It boosts the motivation of the child once the first portion is completed. This boosts the speed of finishing homework as the child is able to be able to see the improvements. Small pieces of homework will not be too overwhelming and can make it appear less difficult.
Make sure you have the right environment to help students with their homework
Create a comfy desk that allows your child to stay seated for long periods until they are done with their work. The desk should be free of distractions like TV or talking in the same space. A bright and comfortable desk can also help you focus.
Offer support or assistance with homework
If homework is hard to complete, it'll take longer as the child is constantly searching for answers. Being with children and encouraging them as you do your tasks, increases their confidence in themselves and helps them focus on getting their homework done. These interventions help make assignments simpler to finish.
A child who is attentive to their work will develop insightful thoughts and is quick to finish the tasks, and will recall the most concepts. The working environment, the support given, and mental condition are crucial to the ease of completing any task. If you make it easier to complete the work to complete, it can be memorable when it comes to tests, and fun for use in everyday life.
For any queries contact us on 040-48549401  or +91- 9515019759. You can also reach out on admissions@cgrinternationalschool.edu.in  or visit https://cgrinternationalschool.edu.in/.