What is the Difference Between International School and National School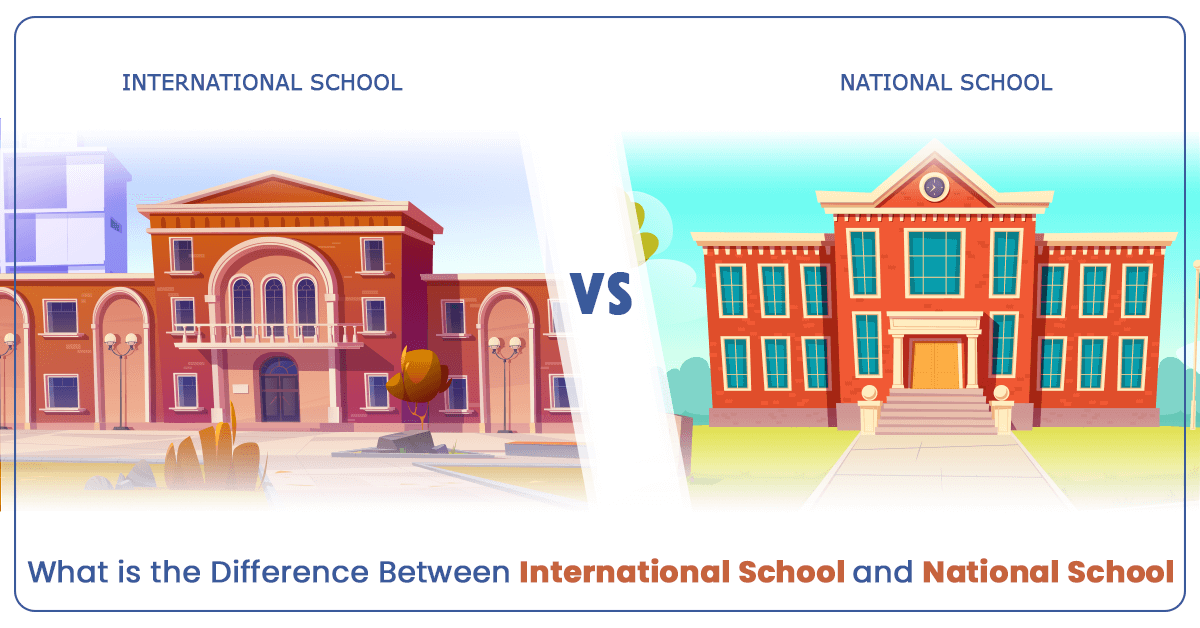 With the growing number of international schools, it's normal to be curious about what your child will learn at an international school over a normal national school.
Are there different curricula at international school? Do they not adhere to CBSE guidelines? Are there better options for students in international schools? Do the costs exceed the cost for regular school? There are a myriad of questions to be addressed. You'll get answers to the most frequently asked questions about international and national schools in this blog.
Education at school plays an essential part in the growth of children. It is the greatest gift parents can give to their children. Every child is blessed with one or the other talent, which can be nurtured and discovered with the right education. To further develop the inherent abilities of children it is crucial to enroll them in an institution / school that will not just help them improve their existing skills, but also motivate children to explore and learn. A great school can help your child's desire to learn.
Before discussing the differences between two types of schools, let's look at how a school earns the label of being an international school. To qualify and to be considered an international institution, the school must meet a list of requirements that has been established in the International Association of School Librarianship (IASL).
The requirements are:
Because English is one of the widely spoken language in the world, each school that wishes to be international has have English as their main language.
The school should follow the program that is taught in or from the US as well as the UK as well as an internationally based one such as International Baccalaureate, Edexcel, Cambridge Assessment International Education, International Primary Curriculum, or International General Certificate of Secondary Education.
The school must be recognized by international organizations like such as the Council of British International Schools or the Council of International Schools.
The school should accept students without discriminating and/or discriminating towards any students. The admissions process must be non-selective. That means any child shouldn't be granted any special or partial treatment. All children who meet the admission criteria must be admitted regardless of race, gender, or ethnicity.
What Exactly are the Differences Between the National and International Schools?

Children who attend international school have a higher chance of becoming citizens of the world by being accepted to universities all over the world. The majority of international universities recognize the curriculum used in international schools because the curriculum offers greater exposure and knowledge to the children.
International schools provide an inclusive curriculum for education that lets children learn about different cultures from around the world. Schools in the national system do not provide the same thing since they are more focused on textbooks.
Numerous career options are available for students from international schools which are far more higher quality than those available to children of the national school. International schools provide a comprehensive curriculum that encourages students to be brave, curious, experimenting as well as educated and civilized. For instance, CGR International School, Hyderabad which is among the top CBSE schools, has a curated curriculum with the most recent and innovative educational philosophies to ensure that plenty of opportunities for careers are open for students once they are older.
In addition to the students, a strong sense of variety can be seen among the instructors at the international schools. A lot of international schools employ teachers from various cities and states, which allows students to meet people from other geographies. Teachers share their experiences and stories to students to learn from and to learn about different worldview.
International schools are governed by a set teacher-student ratio. The number of students are always lower. As opposed to the national school they do not think that they can accommodate a large number of students in one class. International schools are famous for their high-quality education and personal focus. Because the student to teacher ratio is not high each child receives full attention from their teacher.
In terms of infrastructure and facilities it is impossible to draw any comparison between an international and a traditional school. International schools provide many facilities including a football field as well as libraries and laboratories with well-ventilated classrooms, smart classes buildings, and more. CGR International School, Hyderabad offers a variety of libraries and games for children in kindergarten and primary school students. The school also has labs for different subjects, such as Mathematics, Computer Science, Physics, Chemistry, Biology etc.
The majority of international schools let parents select among the many curriculums that are available such as Central Board of Secondary Education (CBSE), Council for the Indian School Certificate Examinations (CISCE), International Baccalaureate (IB) or International General Certificate of Secondary Education (IGCSE).
Many international schools provide foreign languages such as French, German, Spanish, Japanese etc. But the majority of schools do not have foreign languages available. Learning a language from young age sharpens children's minds and gives an advantage over other children.
It's a fact there are international schools that are slightly more expensive than traditional schools. However, when you consider the high excellent quality of education, the facilities, infrastructure, and the many opportunities that are available to students, every cent is well-worth it.
Higher quality education, more socialization as well as unbeatable career opportunities and the development of moral qualities such as empathy, morality, ethics, and so on, are just some of the benefits offered by international schools.
Since schools aren't something, parents can change on a regular basis, it's best to select the right school from the beginning to ensure that your child won't need to change or meet new acquaintances over and over. The education is the single most important gift parents can give their children. Therefore, you must pick the very most suitable you can for your children.
For any queries contact us on 040-48549401or +91- 9515019759. You can also reach out to us on https://cgrinternationalschool.edu.in/ .