A day in the life of a CGR student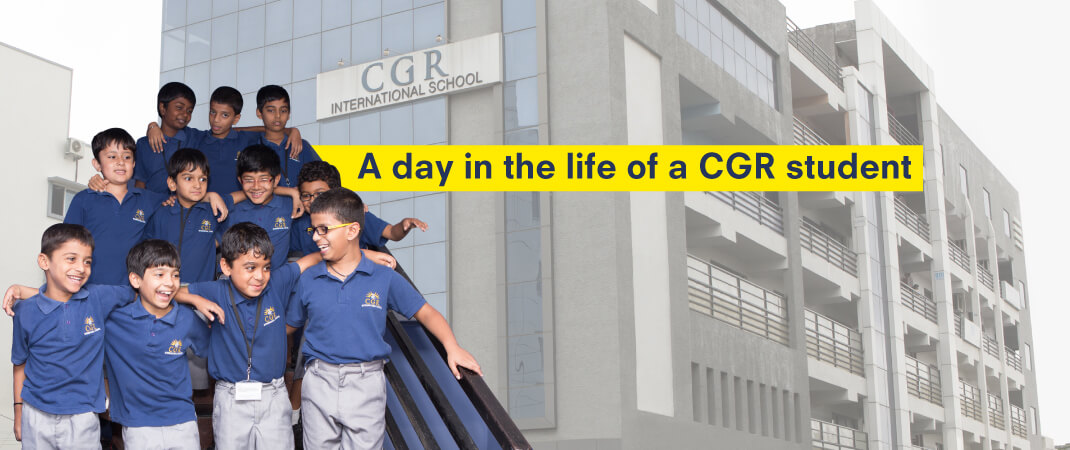 My dear friends, I would proudly like to say that my day in CGR school begins with a morning assembly in the school premises. After the assembly is over, I proceed to my classroom in a proper queue and sit on my assigned chair and desk.
Not a single day, I would like to miss school because, I like to have 100 % attendance than being sitting idle at home. School days are indeed the best days of a student's life and obviously, I want to enjoy every moment of my time spent here.
Indeed, my mom and my relatives say that since a child spends most of their time in school, it obviously has the power to influence, shape and mould our lives in a positive and constructive way.
To begin with, my school is managed by a group of expert professionals for whom education is a not just a passion but also an objective.
Also, with an experience of over 15 years in the field of Engineering, Management, Education and Pharmacy my school's Trust also runs many colleges across Hyderabad.
Many schools of late are now looked upon as a holistic learning experience so as to help, we kids develop our overall personality. Truly, CGR helps us focus in our career from a very early stage so as to avoid any confusion, mystery and chaos later in life.
Obviously, this early focus will help me and especially my parents plan a secure future and invest their money in my career accordingly.
The day in school begins with morning assembly, wherein various students participate in thought of the day and news reading along with some important announcement thereafter.
The classrooms, where we children spent almost our whole day are, neat, clean, huge, spacious, well ventilated (few windows and doors), air conditioned and well decorated too with inspiring and motivational quotes/slogans.
No doubt, CGR school has given me the best possible learning environment in its capacity to enhance a sound, well-devised, well- structured and well- researched education process.
All CGR students are encouraged to participate in not just extra-curricular activities but also in sports. This active participation helps us learn the significance of extra-curricular activities and benefits us in more ways than one.
I do agree to the fact that the quality of team spirit, co and inter-personal skills are all learnt only in extra- curricular activities and sports.
A day in the life of a CGR students has a blend of everything and this unique blend includes emerging trends, and new prospects in education which is mixed with all available tried, and tested methodologies.
An ever-evolving curriculum of the school reflects the latest advances and studies in the field of education and fosters scholastic and scholarly achievement in students.
It wouldn't be wrong to say that academics go hand in hand with all other extra-curricular activities in the school. This is with the sole purpose of nurturing us into all-rounders and gaining a good skill and expertise in various aspect of education.
Click here to know more.