10 Books that your child should read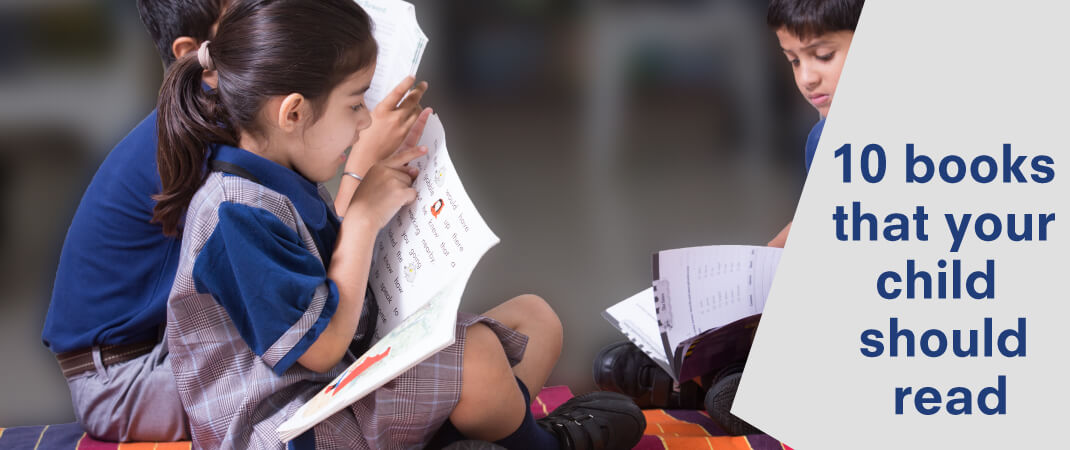 Indeed reading is a great habit and it's rightly said that books are your best friends. It has been time and again said that a nation that reads is a nation that leads.Truly, that's the reason why kids must be religiously and very strongly encouraged to read books at a very early stage.
The earlier the habit is inculcated the better it is for them in the long run.
Reading has not only one but many benefits that automatically helps your kids develop their personality in a more intellectual manner.
As parents, it is utmost crucial to let their kids develop the habit of reading or writing especially before the bedtime. This habit has everything positive one can think of and just requires you reading out aloud to your kids before sleeping.
So, what are those highly recommended books that your kids must lay their hands on? While there are many books to look out for and to merely selecting 10 from the huge ocean of books is an uphill task.
If your kids receive some fantastic books as their birthday gifts then nothing can beat their happiness and smile on their face. That's simply because these are the books that is 'A Must to Read' for all kids who wish to enhance their vocabulary and also their Spoken English.
Recommended books for kids from (Nursery to class X)
1. Fun Bedtime Story Collection Book- (Nursery kids aged 3 – 8)
2. Amar Chitra Katha Collection – (for kids from Class 3rd- 6th standard)
3. Panchtantra Tales (Vishnu Sharma), Malgudi Days and Swami & Friends – R K Narayan (For kids in Class 5-7)
4. Ruskin Bond's Children's Omnibus – Ruskin Bond (Classes 6-10)
5. 50 witty tales of Akbar & Birbal (Children's thinking capabilities would be increased because of the smart answers of the Minister Birbal. Each of the 50 stories contains a moral, a logic to think) (Classes 7 -9)
6. Hardy Boys & Nancy Drew (Classes 7-9)
7. Harry Potter series by J.K Rowling (kids in classes 7- 10)
8. The Fault in our Stars (John Green) – (Kids from classes 9-10)
9. 65 years of Little Golden books by Golden books (Kindergarten kids)
10. The Snowy Day by Ezra Jack Keats (Kindergarten/Nursery kids)