Sending your child off to school for the first time? Here are a few tips to hold back their tears!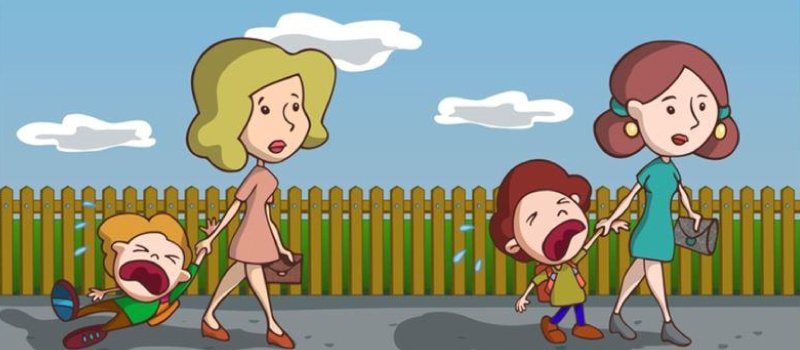 Has the time finally come to send your little one off to their first day of school?
Experiencing a flood of emotions and unsure of what to do?Whether it's preschool or kindergarten, it is a major milestone for your child to start schooling for the first time. For your child, the first schooling experience can be quite exciting, yet daunting. Entering a new environment filled with unfamiliar people can cause anxiety not just for your child, but for you as well. It is a big adjustment as you realize that your baby is taking a big step into the world without you.However, the good news is that the little fingers that you are nervous about letting go, will soon be waving you goodbye as they happily make their way to their classrooms along with their friends.
Here are some tips that can help your child transition into this new phase of life.
Talk to your child
New faces and new environment can get quite overwhelming for your child. As a parent, you should talk to your child beforehand about what they can expect when they go to school for the first time. Have a conversation with your child and explain to them what starting school means. Explain what the days ahead will look like, what activities your child can expect and the fun that they will have. Prepare them in advance so that there are no surprises. Speak positively about the activities and experiences that your child will go through during their time in school. This will get your child excited and they will look forward to their first day at school, making the transition easier.
Visit the school along with your child
Some kids might be very enthusiastic about kindergarten. However, taking your child to visit the school before their first day is a good idea. Familiarity with where they will be going to school will make a huge difference to your child. Take your little one on a stroll through the school and make sure you take them classroom and playground before the first day rolls around. Familiarize them with their surroundings so that they are comfortable with entering the school when the D-day comes.
Stay positive
You need to be positive and emphasize the positives of the school to your kid. Let your child know how much fun school will be and all the new friends they will make. If your child has an older sibling in the school, have the elder sibling talk to your younger child about the recess and the fun that is had at school. If you express fear or anxiety, you child will pick up on this and become afraid and nervous.
Involve your child in activities
You can reduce school stress for your child by getting them involved with activities or events prior to school. Introduce your child ahead of time to common school activities such as story telling or drawing pictures. These will help them build confidence and make friends.
Assure your child
Everyone thrives on reassurances and this is particularly the case when starting something new. This is exactly the same with children as well. When it comes to attending school, your little one will need your confirmation that everything will be okay and that you will be there at the end of the day. Having this sense of security even when you are not there will make a huge difference in your little one's first school experience.
Get to know your child's teacher
a parent, you may be quite inquisitive on what kind of teacher your child might be having. The best way to recoup from the inquisitiveness is to get to know your child's teacher. This is good way to help you as a parent to feel assured that your child is in a safe environment. Having conversations with the teacher may leave you encouraged that your child is in the best care in your absence.
Make the big day special for your child
While it need not be a ceremony, however, creating some hype around your child's first day of schooling will make it extra special for them. Plan a trip to the store to pick up their 'first school uniform' and other school supplies that they would need. Ask them what they would like to pack for their first day and go to the grocery store to buy the ingredients needed.
Make your child go to school
If you child starts crying and refuses to go to school, it is important that you insist he or she still goes. Don't give in and keep them home because it can encourage them to skip school. Explain it to them that they need to go to school so they can make a life for themselves when they are older. Tell your little ones that you love them and want them to be happy adults.
Praise or reward your child for brave behaviour
Attending the first day of school without being too fussy is an act of bravery. Applaud your little ones for their efforts. Overcoming first-day jitters can be quite tough for some kids. So, don't forget to praise and reward your child for their brave behaviour. It could be verbal praise saying "You are doing great" or ordering a celebratory pizza for dinner.
Finally, are you ready?
Your child will look up to you to know when they should be worried or fearful in a situation. If you subtly or explicitly communicate anxiety, then this will further increase your child's first-day jitters. While it is very important to normalize your child's feelings of anxiety on the first day, it is equally important that you tell them that you feel they can handle it.
By being armed with this information, it will make it easier for you to help your little ones and yourself fight with the first-day anxiety.
Do you have a few more tips? Post them in the comments section below.