Tips For Raising Critical Thinkers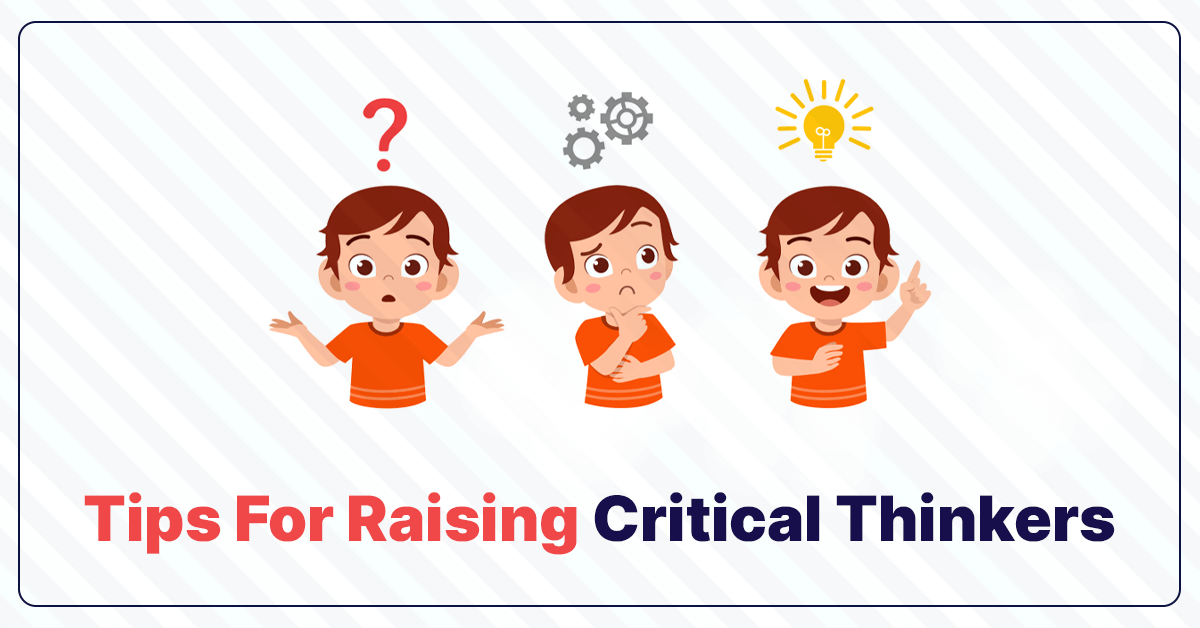 The systematic process of analysing facts and information and taking educated decisions based upon the analysis is referred to as "Critical Thinking. Skills such as the ability to make decisions, observe, analyse assessment and explanation, inference and interpretation are essential to the process of critical thinking.
In our fast-paced world children need to be able to apply of concepts instead of simply remembering facts. Therefore, in order to facilitate your child's progress towards becoming an active learner instead of an inactive receiver of information, a strong emphasis should be placed on their ability in thinking critically. Critical thinkers always use their ability to think and to examine ideas and assumptions, instead of accepting their assumptions on face value.
Children are extremely quick learners and absorb information continuously. Therefore, it is suggested that you should inspire them to be able to think critically at an early age. It can sound overwhelming to ask "how to raise critical thinkers" however, in reality it's simple process as well as practices with your child.
Here are six tips for fostering critical thinking in your children:
Encourage Asking Questions
Understanding the basic concept of a topic isn't enough since that information may be superficial and could create a false impression of confidence in the information about the subject. The children should be able to comprehend the causes and the effect of a certain issue or phenomenon that allows them to think beyond facts and think deeply about the topic.For instance simply asking the definition of photosynthesis doesn't suffice; the child must extend beyond the definition to comprehend how it impacts humans and why humans require plants for photosynthesis.
Help Only When Required
Try counting up to 120 before stepping into the task that your child is struggling in. This is important since you must give your child enough time and space that he or she needs to comprehend the issue, come up with various solutions and then choose the one they believe is the most effective. Even though it can be challenging, it is to develop the necessary skills to continue solving problems. You can give them enough details, so that they don't become discouraged. They will complete an assignment, however not to the end with a solution that is complete.
Share Your Thought Process
As a parent, there are times when you have to help, if your child is experiencing difficulties. Children learn best from watching the way you think. Therefore you must be able to share your thinking process as well as your method of taking decisions as you navigate through the issues. This will enable them to comprehend how to tackle any future challenges in a successful manner.
Encourage Your Child To Interpretate
Making interpretations will help your child to understand all possible outcomes that could result from his/her choice. This helps develop the ability to think ahead of the issue, so that they are able to analyse possible consequences before making informed choices for themselves. Ask your child questions such as "if you do this, what do you think will happen next?" This will prompt your child to formulate an idea however, it can also assist you in understanding the thinking processes of the child. It will also assist in aiding you in determining if your teaching techniques require modifications.
Ask Follow-Up Questions
When your child is working on the issue, ask them "how do you know this?" or encourage them by positive affirmations like "that seems very interesting, please tell me more about it". This will boost their confidence and give them the feeling that their ideas are valued and respected. If your child is able to tackle a problem on their own asking questions about their experiences during the process could go a long way in reaffirming the ideas.
Children develop critical thinking when they are free to choose their own path, organize their time, and design an idea from scratch. It doesn't necessarily require to be a subject since this skill is more about being able to achieve their goals and teaching them to think independently. In addition, it is crucial to create a healthy dialogue between you and your child to ensure that there is space for discussion, and they are able to approach you for help in clearing their doubts while they are learning.
As you help your child develop the ability to think and act upon their ideas, you should remember this is a slow process that requires patience and gentleness in situations that are more than perfect. If you encounter an obstacle when you are working on this, it is best to stop for a moment, not just for your child, but as well for you. Engage in an activity that will restore their energy and yours, and then slowly return on the path of learning. Instructing your child's questions as well as listening and responding to them in a manner that can encourage independent thinking that is essential to building their critical thinking abilities in the future.
For any queries contact us on 040-48549401  or +91- 9515019759. You can also reach out on admissions@cgrinternationalschool.edu.in  or visit https://cgrinternationalschool.edu.in/.